Does My Patient Have Transthyretin Amyloid Cardiomyopathy (ATTR-CM)? The Pharmacist Can Solve the Mystery
ACPE Number: 0204-0000-21-422-H01-P
Release Date: October 22, 2021
Expiration Date: October 22, 2022
Activity Type: Application-based
CE Credit: 1.00 contact hour(s)
Activity Fee: Free of charge
This activity is a recording of a live webinar and those who claimed credit for the live activity should not also claim credit for this home study activity.
Activity Overview
Transthyretin amyloid cardiomyopathy (ATTR-CM) is a rare, complex disease that is often not diagnosed or properly treated. Pharmacists can be instrumental in ensuring that patients with the condition are properly diagnosed and treated promptly, which will lead to improved therapeutic and clinical outcomes in those patients. This educational activity will increase awareness of the disease by explaining the pathophysiology and disease presentation of transthyretin cardiomyopathy and discuss some of the clinical clues and red flags that can steer the clinician in suspecting cardiac amyloidosis as the potential diagnosis in a particular patient. The role of the pharmacist in the screening, diagnosis, and treatment of the condition will also be reviewed. The education will conclude with a summary of clinical trial data on available and emerging therapies for the treatment of transthyretin cardiomyopathy.


More in this series
Expert Insights
Unfolding' ATTR-CM: A Rare Disease Hidden in Plain Sight
Read now →
The American Society of Health-System Pharmacists is accredited by the Accreditation Council for Pharmacy Education as a provider of continuing pharmacy education.
This activity was planned to meet the educational needs of pharmacists practicing in hospitals, health systems, and ambulatory clinics who care for or have an interest in patients with heart failure and other cardiovascular diseases.
After participating in this CPE activity, participants should be able to:
Explain the pathophysiology and clinical presentation of patients with transthyretin amyloid cardiomyopathy (ATTR-CM).

Develop a plan for the pharmacist to identify, diagnose, and treat patients who have ATTR-CM.

Interpret clinical trial data on available and emerging therapies for the treatment of ATTR-CM.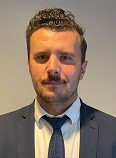 Dejan Landup, Pharm.D., BCPS
Clinical Pharmacy Specialist - Heart Failure and Cardiology
Advocate Aurora Health
Chicago, Illinois
No one in control of the content of this activity has a relevant financial relationship (RFR) with an ineligible company.
As defined by the Standards of Integrity and Independence in Accredited Continuing Education definition of ineligible company. All relevant financial relationships have been mitigated prior to the CPE activity.
Participants must participate in the entire activity, complete the evaluation and all required components to claim continuing pharmacy education credit online at ASHP eLearning Portal. Follow the prompts to claim credit and view your statement of credit within 60 days of completing the activity.
Important Note – ACPE 60 Day Deadline:
Per ACPE requirements, CPE credit must be claimed within 60 days of being earned. To verify that you have completed the required steps and to ensure your credits have been reported to CPE Monitor, check your NABP eProfile account to validate that your credits were transferred successfully before the ACPE 60-day deadline. After the 60 day deadline, ASHP will no longer be able to award credit for this activity.
Provided by ASHP.
Supported by an educational grant from Pfizer, Inc.