HIV Prevention: The Advancing Role of Pharmacists
Please note that your participation will not show as 'Completed' on ASHP's website, as PRIME® is the accreditor for this activity and will be managing the credit fulfillment. Your statement of participation will be saved on the PRIME

®

website.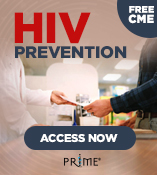 Please note: The content for this activity is hosted on another CE Provider's site.
Click on the picture above (or click here) to enroll.
Any CPE credit earned for this activity will be reported to CPE Monitor by PRIME Education. Questions/Comments concerning this activity should be directed to support@primeinc.org.